Evelene Brodstone - Lady Vestey

From Nebraska Farm Girl to British Nobility
No Cinderella Romance has equaled this story of the Little Stenographer who became the highest paid woman executive in the world and later married her boss, Lord William Vestey.


"The little stenographer who married the boss" is a correct description of Lady Vestey, originally Evelene Brodstone of Superior, Nebraska, but it doesn't really capture what she accomplished through intelligence, hard work, a generous nature and love for her hometown.
Evelene was born on August 1, 1875 in Monroe, Wisconsin. Her parents were Mathilde and Hans Brodstone. She had a brother, Lewis, who was three years older. Just after Evelene was born, Hans Brodstone rode the train to the end of the line in Edgar and walked the last 20 miles to Superior. His visit to the new community included conversations with William Louden, the town's founder. Brodstone was impressed with the bridge which had recently been built over the Republican River so hogs and turkeys could be herded across the bridge and up to Edgar where they could be shipped to eastern markets.
When Evelene was 3, the Brodstone's moved to Superior. At the time there were two frame houses, another four to six residences, two general stores, a hotel, a hardware store, a grocery store with post office, a real estate office and a sewing machine business. The Brodstone's established a farm at the north end of town.
Two years later Hans died, leaving Mathilde with two small children to raise. Life was not easy and frugality became the watchword in the home. It is said that these early lessons in saving money and making the most of the available resources would later be invaluable to Evelene in her work for the Vestey meat packing business.
Evelene graduated from high school at the age of 14, and left Superior to attend business school in Burlington, Iowa. After completion of her schooling, she got a job as a stenographer with the Vestey Meat Packing Plant in Chicago. She regularly sent part of her $12 per week salary home to her mother. One day, Edmund Vestey, the brother in charge of the Chicago office, called for a stenographer to take dictation. His private stenographer was ill that day, as were several others. Evelene, the new girl, was sent. Although he appeared to be upset by her lack of experience, the dictation proceeded. She transcribed her notes and presented the letter. After seeing the letter, Edmund Vestey told his assistant manager, "Hereafter, send her in whenever I call for a stenographer, she knows her business and she's quiet." Evelene's salary rose immediately to $20 per week, and would keep rising until she was earning $250,000 per year as a partner in the business.
William Vestey was born in England, the oldest son of a retail butcher of moderate means. Early on he realized the importance of supplying refrigerated meat to heavily populated areas. Their packing house in Chicago became the nucleus of a business which would extend to Australia, New Zealand, China, Columbia, Argentina, Paraguay, Venezuela, Brazil and South Africa. They owned a fleet of ships which transported their beef, mutton and eggs around the world. At one time they owned 3,000 of the 15,000 retail butcher shops in London.
When World War I began, Vestey's enterprise was one of the smaller ones. But he received enormous contracts from the British government to supply meat to the troops. By then, Evelene had retired to Superior. He cabled, asking her to return to the company. She agreed to return. Mathilde accompanied her to London. Her mother had trouble with the climate, and although Evelene was receiving a sizable salary, they returned to Superior.
After she had been home a month, Vestey sent her a cable. It begged her to return to work. Things had gone wrong in China. She was needed to go there and straighten it all out. She refused. Ten days later Vestey arrived in Superior. After three days, he returned to London and Evelene started for China. Things began to run smoothly again, and she once again retired to Superior.
Then even worse trouble broke out in China. Two valued employees at the headquarters in Hankow had died. Hankow was about 1,000 miles inland on the Yangtse River. The river swarmed with pirates. The Vestey interests in the area were so great that nearly 900 employees worked in a single room of the great plant. Evelene arrived in Hankow in January. Before her work was completed, a revolution broke out and she had to stay until May.
On another occasion, she traveled 1,000 miles along the Orinoco River to the interior of Venezuela, an area filled with anacondas, jaguars and natives with poison arrows.
As she traveled the world trouble-shooting for the Vestey's, Evelene usually traveled in specially chartered trains and ships. Often she was the only passenger. When she went to Russia, rioting had been going on in Moscow. She was on the first train to arrive in the city in two weeks. She rented rooms in the best hotel, but decided to visit the Vestey plant first. While at the plant, her hotel was dynamited and everyone there was killed.
The local manager of a plant in South Africa absconded with money from the company. Evelene followed him half-way around the world before catching him.

In 1922, William Vestey became Lord Vestey in recognition of his great wealth and his help in feeding the troops during the war. Instead of hiring a heraldic expert to trace his lineage and prepare a traditional coat of arms, he ordered one made which exemplified his business: a sheep, a steer, three eggs and an iceberg were depicted. Also included was a goat's head, indicating his fondness of bock beer. The first Lady Vestey died in 1923. About a year later, Lord Vestey arranged to meet Evelene in New York. Three days later they married and, and at his request, Evelene changed the spelling of her name to Evelyn. The principal Vestey residence in the inner suburbs of London was an enormous Elizabethan house situated on 235 acres. All around the property's walls were the modest homes of middle class Londoners.

Lord Vestey died in December of 1940. Five months later, on May 23, 1941, Evelyn died at Gerrads Cross where she had taken refuge from Nazi bombs. Her ashes were sent to Superior for interment at Evergreen Cemetery.
During all her travels, she never lost her interest in, nor fondness for, Superior. Among her many gifts to the community were a bridge for Lincoln Park. After her mother's death, she and her brother, Lewis, provided a site and funds to build Brodstone Memorial Hospital in memory of Mathilde. Two full blocks of land adjoining the park were given to the city as a Bird Sanctuary and children's playground in memory of Lewis. Before her death she provided an endowment for what is now Brodstone Memorial Nuckolls County Hospital. During the opening months of World War II, her letters telling of the war were regularly published in The Superior Express.
To describe Mathilde Brodstone, Willa Cather of Red Cloud, a childhood friend of Evelene's, wrote these words, now engraved on a bronze tablet at Brodstone Memorial hospital: "She had a high courage, a warm heart, and a rich relish of life...she traveled far, but her journeys brought her home." The tribute applies equally to Mathilde's daughter, Lady Vestey.
A biography of Lady Vestey, Evelene: The Troubleshooter Was a Lady, by Betty Tremain was published in 1985.
An extensive Vestey collection is on display at the Nuckolls County Museum in Superior.

Bev Beavers is a Portrayer of Lady Vestey.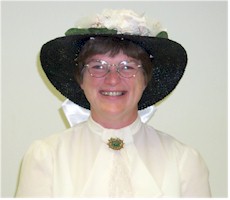 Bev gives performances at the Lady Vestey Victorian Festival, held Memorial Day weekend.
She is endorsed by the Nebraska Humanities Council, and is available for performances.
To contact her email:
bbeavers@esu9.org

Home
/ Annual Lady Vestey Victorian Festival / Superior - A Chronology
About Our Town / Superior Means Business / Evelene Brodstone - Lady Vestey
Recreation / Historic Superior / Superior Chamber of Commerce
Where in the World are We?